Hakan Gunes
31 March Istanbul Metropolitan Municipal Elections renewed in 23rd of June and the scores reveal quite unexpected results. President Erdogan's pro-Islamist-conservative Justice and Development Party (AKP) and its ally Nationalist Action Party (MHP) lost re-run of Istanbul elections which might mark the beginning of the fall of 17 years long Erdogan rule. Analysis of voters' behaviors approved the expectation that the pro-Kurdish HDP voters' increasing support for anti-Erdogan camp repeated in the last elections. Moreover, the results in AKP's stronghold districts indicate a substantial shift towards the opposition bloc.
Historical Victory for the Opposition:
Oppostion candidate Ekrem Imamoglu secured 54% of the vote while his rival, former Prime Minister Binali Yildirim, got 45.1% of the vote with over 99% of the city's ballots counted, According to results posted on Turkey's state-run Anadolu news agency. "It was not a single group or party, but the whole of Istanbul and Turkey that won this election," the opposition politician said, adding that he was ready to work with President Recep Tayyip Erdogan to solve the problems facing Istanbul.
Local elections in March were seen as a referendum on Erdogan's policies and the popularity of his ruling party. Although the AKP won a majority of the local elections, the party lost the mayoral seat in the Turkish capital, Ankara, as well as the race in Istanbul.
In order to analyze the changes in the voters behavior, 8 Istanbul districts are chosen out of 39 due to their representative/exemplary characteristics. Two CHP strongholds (Besiktas & Kadikoy) , 3 AKP strongholds (Arnavutkoy, Bagcılar & Sultanbeyli) which are strongholds for the HDP as well and 2 dynamic district (Uskudar & Umraniye) where AKP/MHP voters tend to change their preferences. Initial analysis demonstrate beginning of a new era in Istanbul, and probably for Turkey.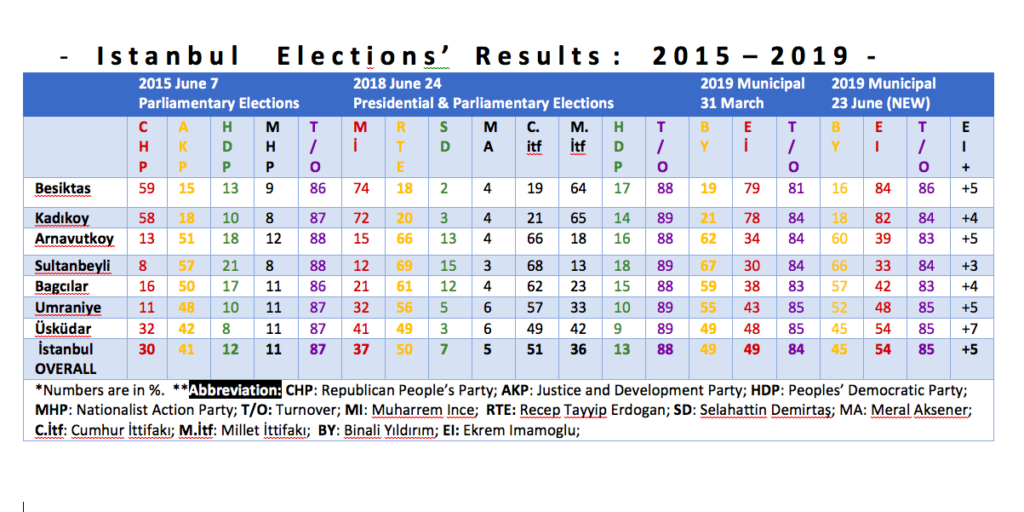 Kurds' support for Opposition camp increased:
The data reveal that the HDP supporters in 3 of their strongholds (Arnavutköy, Bagcılar and Sultanbeyli districts) did not changed their stance and voted for opposition candidate. An average +5% increase in Imamoglu's votes in Kurdish populated districts where HDP has an average 18% support in the last 3 elections confirmed HDP's authority over their electorates and commitment to support opposition bloc in order to balance Erdogan's authoritarian rule and anti-Kurdish campaigns.
A Change in Conservative Istanbulites' Stance:
Uskudar and Umraniye, two middle and lower middle class conservative districts' results indicate a more unexpected shift towards opposition: Imamoglu managed to increase his votes a +5 % in Umraniye and a +7 % in Uskudar. He secured 48 % of the votes in Umraniye district where all opposition candidates (Muharrem Ince + Selahattin demirtaş + Meral Akşener) had won 43 %. Similarly Uskudar voters support for the Erdogan and his candidate decreased from 49 % to 45% just within 2 months.
Ekrem Imamoglu's program, discourse and strategy to convince conservative voters seem to resulted positively. Not just Umraniye and Uskudar bot almost all Istanbulites' electoral behavior indicate a remarkable success of the secular opposition among the conservative citizens.
A Victory for All
Regardless of the vacation period Istanbulites did not miss the opportunity to vote for their future mayor. Turnout rose to 85% with a 0.6 increase compared to 31 march elections. Erdogan's change did not work effectively and Imamoglu signed a significant historical victory managing to get support of almost all oppositional factions.