www.ft.com, 9.11.2020, by Laura Pitel,
Turkey's lira was on track for its biggest one-day rise in two years on Monday after a tumultuous weekend for the country's economic management brought the firing of the central bank governor and the resignation of the president's son-in-law as finance minister.
The currency, which is still down a quarter against the dollar this year, strengthened almost 5 per cent against the dollar to TL8.1331 in morning trading in London, even as the country's most senior economic post remained vacant.
Berat Albayrak, who is married to President Recep Tayyip Erdogan's daughter Esra, stunned the nation by announcing he was stepping down as Treasury and finance minister on Sunday. More than 12 hours later, the presidential palace had still not responded.
It remained unclear whether the Turkish president, who had given unprecedented power and influence to his son-in-law and was widely seen as grooming him as a successor, would accept the 42-year-old's resignation. Turkey's state-owned and pro-government media outlets were not carrying news of Mr Albayrak's statement on Monday morning.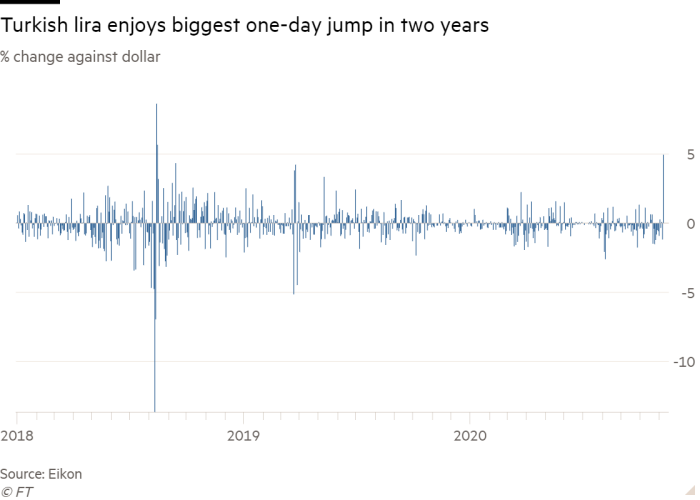 Mr Albayrak's resignation announcement came the day after Mr Erdogan sacked the head of Turkey's central bank for the second time in just over a year.
The president's son-in-law did not see eye-to-eye with Naci Agbal, the UK-educated former finance minister who was chosen as the new governor, according to two people with close links to the ruling Justice and Development party (AKP). Mr Agbal was among senior figures within the AKP who had been critical of Mr Albayrak's strategy at a time of mounting public discontent with the management of the economy, the people said.
Phoenix Kalen, an emerging markets strategist at Société Générale, said the strong market reaction "reflects expectations that the upheaval in economic policymaking taking place among Turkey's leadership warrants a dramatic shift in strategy — one that brings Turkey back to a more orthodox policy framework with a stronger commitment to an appropriately tight monetary stance."
Economists and analysts have warned of soaring inflation and deep economic harm stemming from the collapse in the lira, which the central bank has been broadly reluctant to tackle with higher interest rates. Instead the country has burned through tens of billions of dollars of its reserves over the past year in a failed attempt to prop up the currency.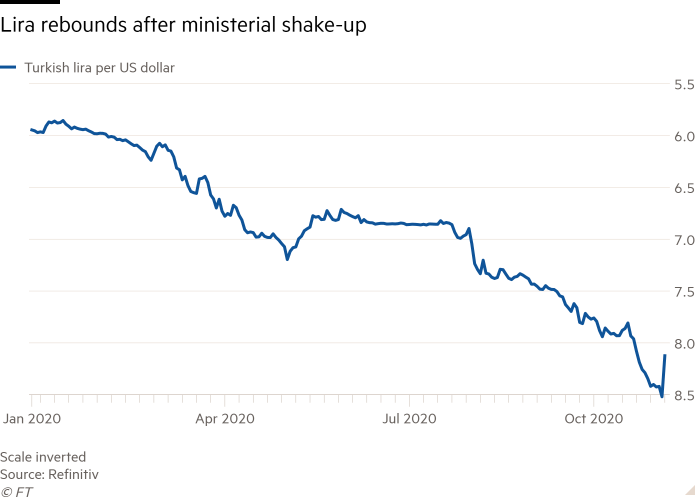 On Monday, in his first public statement as governor, Mr Agbal damped expectations that the central bank could implement an emergency interest rate rise to steady the lira, saying only that it would monitor developments in the run-up to the next rate-setting meeting on November 19. He said that the bank would "decisively use all policy tools" in its efforts to combat inflation, which was running at an annual rate of 11.9 per cent last month — more than double the official target.
While markets appeared hopeful that the changing of the guard in Turkey's economic management, some analysts urged caution.
"Do not let the immediate [lira] reactions this morning deceive you," Ulrich Leuchtmann, head of FX and commodity research at Commerzbank, wrote in a note to clients. The rally "will not last long as the underlying problem is not tackled: the lack of independence and credibility of monetary policy," he added.
Mr Erdogan is a life-long opponent of high interest rates, which he recently described as part of a "devil's triangle". For years, he has prioritised low borrowing costs and fast-paced growth, even as it has come at the cost of double-digit inflation and a volatile currency. In July 2019, the Turkish president sacked a previous central bank governor, Murat Cetinkaya, because he "wouldn't follow instructions" on interest rates.
Mr Leuchtmann said that the appointment of Mr Agbal, who is viewed as a close ally of Mr Erdogan, "suggests . . . that the Turkish president wants even more direct access to monetary policy."
Laura Pitel is the FT's Turkey correspondent, covering Turkish politics, foreign policy, business, the economy and society. Prior to moving to Turkey in 2015, she was a UK political correspondent at The Times of London. She is based in Ankara.