'Kurds are the Blacks of This Country…'
Interview: Murat Bayram, source: BIANET http://bianet.org/english/culture/206736-kurds-are-the-blacks-of-this-country
Rapper XEM has just released his album Biyan. Murat Bayram has interviewed XEM about Kurdish and rap music.
"Xwezî baranek bibare jana dil paqij bike. Xwezî piştî her bahozan roj derbikeve. Li vê jiyanê tu bi tenê yî. Ti kesên te tune ye! Rastî ev e birako xwe nexapîne."
"I wish it would rain and carry away the aches of the heart. I wish sunrise would follow every storm. But, you are alone. You have no one! Brother, it is your reality, don't fool yourself…"
I am in the İstiklal Avenue in Taksim; with my back against the wall, I am looking at the questions that I have prepared to ask artist XEM. The rhythmical voice of XEM is just bringing the above lyrics to my ear. I am holding my little notebook in my hand that I rest on my camera, looking over my notes. At that moment, XEM approaches me in the way rappers walk and my camera just captures the above snapshot of him.
It is now time to go to the nearest cafe and ask questions. (A conversation on rap music without tea would be unthinkable, of course.)
Do you think that rap music and Kurdish match well together?
(Waving his right hand towards me in the way that I am familiar from the video clips of rappers) Miraaad! My dude (in English), both rap and Kurdish are rebellious voices! Kurds are the blacks of this country… Rap and Kurdish do indeed match well together. The rhythm of rap and Kurdish chime in with each other quite well. It is not only me who says that. My friends from other countries are of the same opinion as well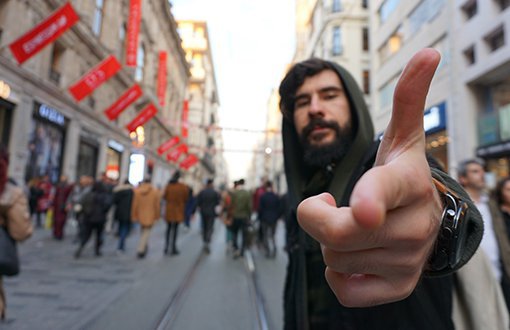 There are several young Kurdish people making rap music in İstanbul. Do you think that you have given them a lead, an inspiration by releasing an album?
I can say that without hesitation: I am the one who has shouldered the burden of Kurdish rap in the North and in Turkey. I can give the names of at least 8 rappers living in İstanbul. We are actually here, but not in the music platforms. I am pressuring my friends into releasing albums. I would really want my friends like Ronî Artîn and Reqso to release albums.
But, you organized the "Kurdish Rap Night" last year, right?
Frankly, I organized it. Then, my friends helped as well. I also want to organize concerts in Silêmanî, Hewlêr, Wan, Amed, Dêrsim and İstanbul. In fact, we are done with preparations, but friends cannot get prepared somehow and the plan has just remained as it is without any progress.
What will happen now?
We don't have the luxury to wait for the organizers to organize an event. We have to do something, then others will follow. It was the case in the US, Germany and Turkey as well.
Are you helping each other with Turkish rappers?
Of course. Ezhel, Patron, Dj Suppa and Aga B. are my friends… A couple of years ago, Ezhel sent me a message on Facebook. He told me that he went to the Kurdi-Der [Association for Research and Development of Kurdish Language] in Ankara, was learning Kurdish and doing research on Kurdish rap. I and Rêzan attracted his interest. He suggested that we should definitely release an album. Then, we went to Ankara to make music for a theater play and met and became friends with him. Friends both supported and helped us.
(Aziz Aslan*) What is the relation between Kurdish rap and populism?
Being popular is one of the ways to reach a community. We have highly successful artists, but as their works and efforts don't come to the forefront, they remain hidden. Being hidden and "Underground' stand in our way. But, we are trying to reach the whole community.
There are, in fact, some signs showing that I have achieved it to a certain extent. Young girls, little children, elderly men and many other people from different walks of life shoot self-videos and send them to me. There are many posts on social media like that. Actually, my music is suitable to reach the society. It is a type of music that you can come across everywhere, be that in your car, at your home, in a wedding-saloon, in a cafe or in a "club"…
Is there something that differentiates the rap that you make in Kurdish from the rap music in general?
We cannot talk about the existence of walls between music styles anymore. Mixing of styles gives us new opportunities. It leads to more original works. To give you some examples from my music: Newroz is a mixture of Rap, House and pop; as for Biyan, we made it by mixing Rap, Afro-trap and R&B; and Payîz is a mixture of Rap, R&B and Reggae styles.
There are three songs in your album. Don't you think that it is a bit few in number?
No. Just as we follow new music trends, we follow music production and distribution trends as well. The trend is EP [extended play] albums now. And three songs are enough for that. We actually prepared 10 songs, but when we saw the tendency, we made an EP album.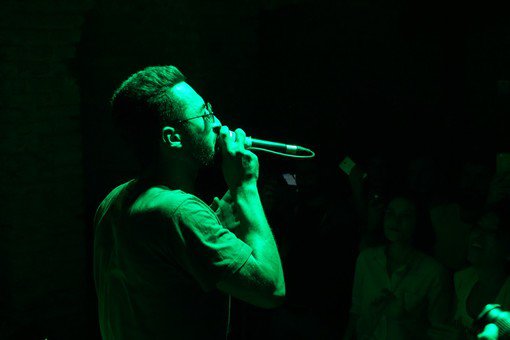 What about the other songs?
We will put them in the two other EP albums that we will release this year. There will be three songs in one album and four songs in the other one.
Tell us a bit about your video clip…
(Laughters…) First, we shot a video for the song Biyan with a friend of mine. Then, we thought that it was not really the way I wanted it. Afterwards, Özgür Kurt shot a professional video clip for the song Newroz. We didn't plan that it would come out in Newroz [March 21], but it was a nice coincidence. HDP [Peoples' Democratic Party] shared it on its social media accounts and, in the South, Vin TV (music channel) has started to show it.
* We announced it on social media that we would make an interview with XEM. We asked XEM the question which Aziz Aslan would like to ask him.
For the video clip of XEM: https://www.youtube.com/watch?v=YPw9hGckd1U
Share the post « INTERVIEW WITH KURDISH RAPPER XEM »