Bethan McKernan (The Guardian)
The Turkish president, Recep Tayyip Erdoğan, has said that a long-planned Turkish military operation in northeast Syria has begun, with Kurdish forces currently in control of the area reporting airstrikes and "huge panic".
The move was triggered by Donald Trump's announcement at the weekend that US troops would withdraw from the area, where thousands of captured Isis fighters and their families are held by Kurdish forces, and threatens to open a bloody new front in the Syrian war.
"The Turkish Armed Forces, together with the Syrian National Army, just launched "Operation Peace Spring" against PKK/YPG and Daesh [Isis] terrorists in northern Syria. Our mission is to prevent the creation of a terror corridor across our southern border, and to bring peace to the area," Erdoğan tweeted on Wednesday.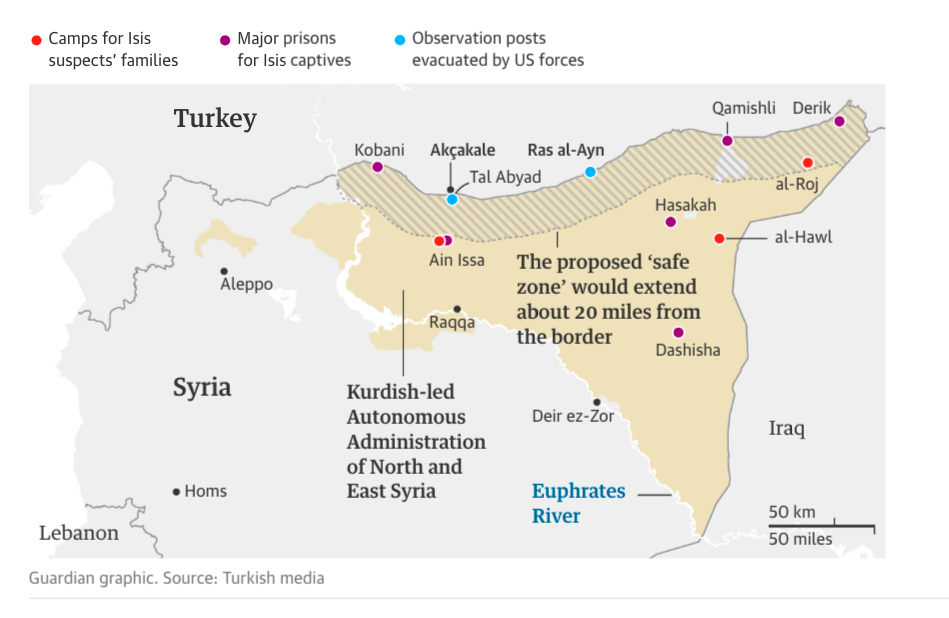 Trump's withdrawal of US troops from Kurdish-run north-eastern Syria gives the green light to a Turkish offensive
A spokesman for the Kurdish-led Syrian Democratic Forces (SDF), which Ankara considers an extension of the outlawed Kurdistan Workers' Party (PKK), said shortly after the announcement that Turkish warplanes had already begun attacking the region, creating a "huge panic among people".
Turkish forces already crossed the border near the Syrian town of Tal Abyad earlier in the day, the Associated Press reported.
Turkey says it is seeking to establish a 32km-deep safe zone in the border region to secure the country against the threat of what it says are Kurdish terror groups as well as Isis.
The SDF, a US-backed force which did the bulk of the ground fighting against Isis in Syria, is Turkey's main target. The umbrella force has been left exposed to a Turkish assault after Trump's announcement on Sunday that the US would remove the 1,000 special forces posted in the region, which have to date acted as a buffer between the SDF and Turkey, the US's Nato ally and a key trade partner.
Turkey has been massing troops for days along the border with Syria. To the south of Syria's Kurdish-held region, forces belonging to the Syrian president, Bashar al-Assad, have also been on the move, leaving the SDF pinched between the two.
Only around 100-150 US troops have been moved away from key positions on the Syrian-Turkish border, the Guardian understands, pulled back to areas outside Turkey's intended path.
Trump's decision to pull back US troops from Syria leaving the SDF vulnerable to attack has been widely criticised by allies and even some of the president's staunchest Republican allies.
The president defended the move on Wednesday, citing a focus on the "BIG PICTURE!" in a tweet. "GOING INTO THE MIDDLE EAST IS THE WORST DECISION EVER MADE IN THE HISTORY OF OUR COUNTRY!" he said.