Introduction
Turkey's election results have taken many observers by surprise. After twenty-one years of uninterrupted rule, the governing Ak Parti (AKP) faced its greatest challenge ever, in what was dubbed as the "election of the century". A whole array of complex issues such as the bitter economic downturn, illiberal practices, anti-immigration campaigns, devastating earthquakes, and regional geopolitical gambits raised serious doubts as to whether the incumbent President Recep Tayyip Erdoğan, who is 69 years old, could win another term. However, the outcome has proven that Erdoğan maintains the same level of support (~52%) as he did in the presidential elections of 2014 and 2018.
Indeed, many seasoned analysts, academics, and pundits thought that the Turkish electorate would decide to put an end to Erdoğan's absolutist, strongman rule and signal the return to a parliamentary system with strong checks and balances.[1] For many partisans of the opposition camp, Cumhuriyet Halk Partisi's (CHP) candidate Kemal Kılıçdaroğlu, at 74 years age, would surely be the country's thirteenth president. However, in defiance of public opinion polls and proponents of a radical change in Turkish politics, the AKP demonstrated surprising resilience, consolidated its conservative voter base, and showed a remarkable performance in the presidential race.
Election outcomes defy expectations
On 14 May 2023, 64.1 million eligible voters in Turkey, plus 1.9 million eligible citizens abroad, went to the ballot box to elect the president and members of the parliament for the next five-year term. The voter turn-out rate was an impressive 87%, much higher than in many established democracies elsewhere.
Against expectations that the main opposition candidate Kılıçdaroğlu would finally unseat Erdoğan in the first round by a comfortable margin, he only gained 44.9% of the votes against 49.5% for Erdoğan, the difference of which equates to roughly 2.5 million votes. The AKP and its coalition partners in the "People's Alliance" won the absolute majority with 323 seats in parliament out of 600, while supporters of the opposing "Nation's Alliance" won only 277 seats.
Apart from Kılıçdaroğlu's underperformance, the other surprising outcome was the phenomenal rise of nationalist votes. The candidate of the far-right Turkish nationalist camp, Sinan Oğan, scored an outstanding 5.2% of the votes at his first appearance on the political scene. The fourth candidate, Muammer İnce, dropped out of the race three days before the election, citing a defamation campaign against his personal dignity as the reason. Since no candidate passed the 50% threshold in the first round, elections went to a run-off on 28 May 2023.
In the second round, there was an 84.5% turnout rate, lower than the first round but still an impressive figure. Erdoğan won a clear majority with 52.1% of votes against 47.9% for Kılıçdaroğlu. Over the past two weeks, the far-right, anti-immigration "ATA Alliance" had split into two factions: Sinan Oğan declared allegiance to the "People's Alliance" and called his supporters to vote for Erdoğan in the second round, while Zafer Partisi (Victory Party) leader Ümit Özdağ, who vowed to deport all immigrants within a year, lent support to Kılıçdaroğlu's "Nation's Alliance".
In the run-off, Erdoğan increased his votes by 2.6% points and Kılıçdaroğlu raised his votes by 3% points. Although a detailed analysis of voter behavior is indiscernible at this early stage, it seems that Kılıçdaroğlu ran a more successful campaign in the run-up to the second round. He gained an unprecedented level of support from all opposition parties, but still lagged behind Erdoğan by more than 4% points. This is partly due to deep polarization within the society and the AKP's control of the state apparatus during its twenty-one-year rule.
There was also serious controversy around Kılıçdaroğlu's candidacy from the beginning of debates in 2022, with many believing that younger, more politically savvy and battle-proven alternative candidates – such as Ekrem İmamoğlu (İstanbul) or Mansur Yavaş (Ankara) – could have won the presidency had they been nominated instead. These counterfactual claims are likely to continue until the municipal elections in March 2024. The AKP will no doubt do everything in its power to regain control over the Istanbul and Ankara municipalities.
Underlying factors of election outcomes rooted in Turkey's sociology
The results of the first round had showed that, despite its success, the AKP suffered a massive drop in its share of parliamentary votes from 42.6% in 2018 to 35.6% in 2023, whereas the CHP increased its gains from 22.6% to 25.3% over the same period. The AKP is now almost at the same level as it was when it first won the elections in 2002. This is a clear message that although the AKP is still the strongest political party by far, having exhausted its success stories around economic prosperity, its popularity is in decline.
The outcome is also a tell-tale sign that the much-touted strongman-style executive presidency regime that replaced the parliamentary system in 2018 has not delivered on its promises to Turkish people. Half of the population is discontent with Erdoğan's unorthodox policies, and the AKP has lost its popular appeal in the eyes of many center-leaning voters in the "strategic middle". Despite its control over media apparatus and dominant narratives, the AKP has been unable to raise its share of votes to strategic levels – 55% and above. However, the inability of the "Nation's Alliance" to emerge above an exhausted AKP, largely due to its fragility, incoherence, and internal political rivalry, provided Erdoğan with the opportunity to manipulate these weaknesses and emerge as the front-runner.
The election results reiterated the typical division of votes among the urban and provincial parts of the country. Erdoğan consolidated his conservative power base in the rural heartland of Anatolia and won over 70% of the votes in even the earthquake-hit southeast of Turkey. Kılıçdaroğlu, on the other hand, maintained a marginal lead in modern, urban centers of coastal cities such as İstanbul, İzmir, Antalya, and Muğla.
The two popular CHP mayors, İmamoğlu (İstanbul) and Yavaş (Ankara) played a major role in outperforming the AKP in the two largest cities. As shown in Figure 1 below, Erdoğan plays to a solid and loyal conversative voter base, garnering the support of pious, nationalist, low-income people from provincial backgrounds, while Kılıçdaroğlu gains sympathy from working/middle-class affluent liberals and minority groups such as the Kurdish.
Figure 1. Results of Presidential Elections, 28 May 2023
The coloring of Turkey's map based on the parliamentary votes of 2023 and 2018, as shown in Figure 2 below, are strikingly similar except for the conspicuous rise in CHP's votes in western coastal cities and the inner city of Eskişehir on the border of Ankara. The purple-colored votes in southeast Turkey consistently went to the Kurdish-leaning/socialist Yeşil Sol (Green Left) party, also known by its sister party as Halkların Demokratik Partisi (HDP), which supported Kılıçdaroğlu. The HDP as a standalone party was a major loser in this election as its share of votes in the parliament dropped from 11.7% to 8.8%. Ironically, had the "Nation's Alliance" not decreased the threshold of representation from 10% to 7%, the Yeşil Sol party would not have been able to enter parliament.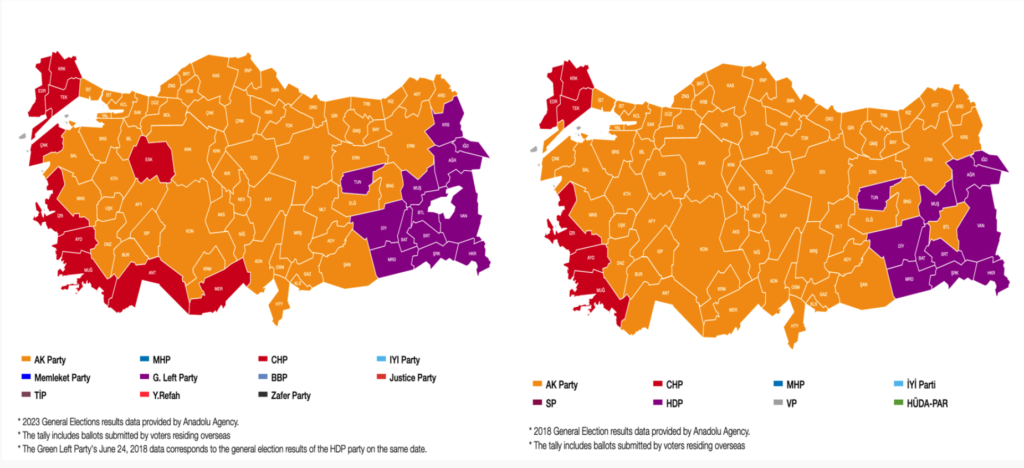 Figure 2. Results of Parliamentary Elections, 14 May 2023 (left) vs. 24 June 2018 (right)
Another unanticipated outcome of the elections was the phenomenal rise of nationalist votes that made up almost 25% of the electoral pie. This confirms that – as opposed to the liberal paradigm's argument about economy's primacy – nationalism is a powerful force to reckon with, and as John Mearsheimer confirms, "nationalism trumps liberalism whenever the two clash."[2] The AKP's coalition partner Milliyetçi Hareket Partisi (MHP) saw a decline in votes from 11.1% to 10.1%, but an increase in its parliamentary seats from 49 to 50. Taken together with the AKP's resilience, the rise of nationalism in both the government and opposition shows that Turkish-Islamic identity politics trumps all other considerations such as economic downturn, foreign policy gambits, humanitarian disasters, and immigration concerns.
Clearly, Turkish people make decisions based on their perception of a leader's positioning with respect to critical issues of national security, stability, and religious identity rather than democracy versus authoritarianism, unlike what many in the West thought. Erdoğan's story around Turkey's external enemies, sanctity of borders, territorial integrity, and beka (preservation of the state) have resonated with more supporters than Kılıçdaroğlu's campaign on plurality, democracy, and more equitable redistribution of economic wealth.
Most people did not lend confidence in Kılıçdaroğlu's ability to deliver on his campaign promises, no matter how sincere he was. Also, the tacit coalition between the "People's Alliance" and the HDP gave the impression to many people that PKK terrorism would likely make a come-back. In the trade-off between "pain tolerance (Erdoğan's poor economic performance and heavy hand domestically) versus risk tolerance (an ideologically diverse coalition with untested personalities, scant unifying principles other than opposing Erdoğan, and a lot of policy unknowns),"[3] the sure but painful path of Erdoğan gained greater support than Kılıçdaroğlu's untried and risky promise.
The road ahead for Turkey
Even after two decades in power, and despite all odds of unprecedented financial, social, geopolitical, and humanitarian turmoil in the last five years, traditional patterns of loyalty, strong nationalist tendencies, and patrimonial networks of political affiliation have benefited the AKP. Results confirm that voters above forty years of age do not switch ideological lines easily; they remain loyal to the political parties of their families, forefathers, and tribes. They are also risk averse to large coalitions with diverse political views, such as the "Table of Six" that supported Kılıçdaroğlu.
The Turkish economy requires immediate attention and foreign relations stand on delicate balancing acts. These alone will require the incumbent President Recep Tayyip Erdoğan to make difficult decisions, and rather soon. He has gained the mandate to rule the country for another five years, for the last time, and thus he will want to leave a legacy behind his political career and become the new "Atatürk" of the Republic in its centennial anniversary. But this term may just be the beginning of greater challenges that he is yet to face.
References
[1] Ruşen Çakır, "Seçimlere iki hafta kaldı: Bekir Ağırdır ve Ruşen Çakır, Medyascope izleyicilerinin sorularını yanıtladı," Medyascope, May 1, 2023, http://bitly.ws/FUt8.
[2] John J. Mearsheimer, "Bound to Fail: The Rise and Fall of the Liberal International Order," International Security 43, no. 4 (2019): 8, https://doi.org/10.1162/isec_a_00342.
[3] Richard Outzen, "Four Questions (and Expert Answers) about the Turkish Presidential Election Runoff," Atlantic Council, May 15, 2023, http://bitly.ws/FUtY.