Source: Bianet
Susma (Don't stay silent) Platform, a platform against censorship and self-censorship, has published its "Censorship and Self-Censorship in Turkey: January 2019 – November 2019" report.
Listing the cases of censorship that took place in the fields of arts and media in Turkey in the first 11 months of 2019, the report is prepared "in an effort to build collective memory on violations of freedom of expression."
Including almost 300 cases of censorship in media, social media, publishing industry, cinema,theater, music and visual arts, the report also focuses on three major provinces of Turkey, namely Diyarbakır, İzmir and Ankara.
'An intense and taxing period'
The foreword has introduced the report to the reader in following words:
"It is evident from the cases covered in the two substantial reports, which we prepared during the State of Emergency (OHAL) and subsequently in the period of "normalized OHAL" following the enactment of the Law No. 7145 (2016-2017 / 2017-2018), that we have been going through an intense and taxing period in terms of freedom of expression.
"Confiscating books, banning events, banning access to online news reports, censoring news, suspending broadcast of TV shows, public attacks, intimidation, arrests, criminal investigations, prosecution and imprisonment…
'Self-censorship hinders free speech like a brick wall'
"It seems that this intensity and volume of restrictions do more than just strengthen and extend the scope of censorship practices, which already became systematic at the hands of the state, through various mechanisms, actors and methods; they also normalize self-censorship that hinders free speech like a brick wall. The long and diverse list of cases presented in the report attests to this conclusion."
Most violations committed through judicial means
According to the report, most of the violations of freedom of expression are committed through judicial means:
"The 32-percent section indicating the frequency of the use of judicial measures such as criminal investigations, trials, arrests and detentions shows that the government still fights against freedom of expression through the harshest means. Banning events or demonstrations is another widely used method of violating freedom of expression (28 percent). Use of economic penalties, including layoffs and broadcast suspension and administrative fines meted out by RTÜK to television channels, as an instrument of censorship is also common (14 percent)."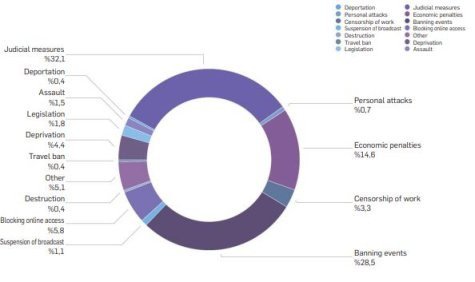 Pressure resurfaced with trustee appointments
When considered on a monthly basis, the findings of the report have shown that censorship intensifies when political tensions rise:
"For instance, despite the municipal elections on 31 March and the rerun of Istanbul municipal election on 23 June, number of cases of censorship is at usual levels in these months.
"This may be due to the government using a softer strategy or the candidates' non-confrontational rhetoric in these elections. But we can see clearly that incidents of censorship increase right after the polls.
"Looking more closely at the cases of censorship, one can observe that the pressure that was quietly building up during the election era resurfaced soon after and trustee appointments got under way. Similarly, censorship incidents suddenly spike again in October, which is associated with the government's severe crackdown on criticism of the Operation Peace Spring."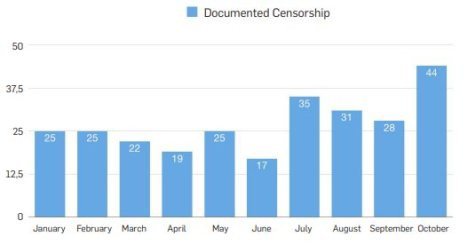 Media accounts for the largest share
Including detentions and arrests of journalists, censorship of news and firings of journalists, the media accounts for the largest share with 37 percent:
"Social media comes second, where censorship targets freelance journalists and citizen journalists, in addition to members of the public from all walks of life. When we look at other areas including theater, cinema industry, music, visual arts and publishing sector one by one, we see that the figures are small. But collectively, they make up 23 percent of the areas where censorship occurs."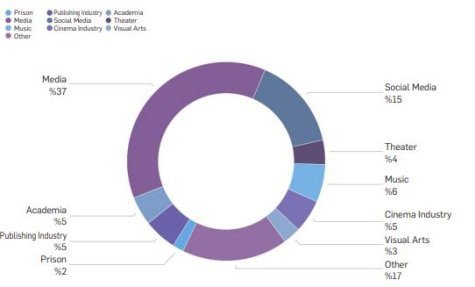 Grounds for censorship
Asking "What are the grounds for censorship", the platform has made the following comments and evaluations:
"Identifying the reasons for censorship and violations of freedom of expression has been one of the biggest challenges of this study. In most cases, there may not even be a given reason or the reason becomes so insignificant that it does not get reported in the media. In addition, although in some cases there is a stated ground, the real reason may be something else that is linked to political dynamics. Thus, cases of censorship involving bans on LGBTI+ events or protests against trustee appointments to municipalities or the Operation Peace Spring are also included in this graph.
"Propaganda for a terrorist organization or membership of a terrorist group have been the most frequently used grounds for freedom of expression violations over the years. Grounds such as public morality or public order are also quite common, especially when it comes to violations of freedom of expression in the forms of bans on public events or demonstrations and suspension of broadcasts."
Click here to read the report in English.